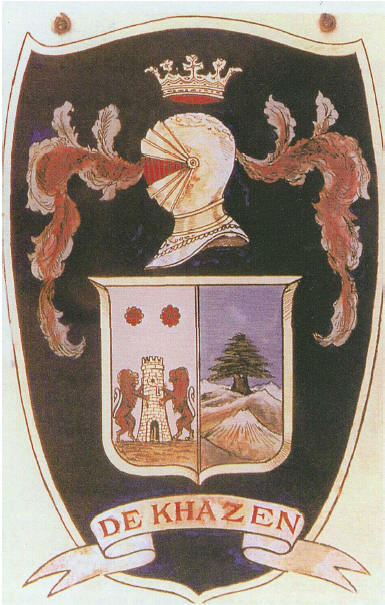 Origins of the Family
The Origins of the Khazen family are still vague. They might have emerged as nomads from the Ghassanides tribe that start moving between Damascus, Nablus, Houran and Yammoune in the year 1100 before settling in Jaj, a small village above Jbeil. The oldest trace to the Khazen family comes back to Sarkis el-Khazen who translated the Bible to "Karchouni", which is an Arab dialect written using the Syriac Alphabet dating back to 1545. Sarkis el-Khazen from Jaj moved his family to Balloune in Keserwan where he died in 1570 leaving two children, Abou-Sakr and Abou-Safi Rabah to which all the Khazen branches can relate to.
Death by Fumigation:
We are in the year 1584 and Prince Korkomaz, son of Fakhreddine the First, took shelter in the Jezzine Grotto and suffocated to death after The Wali Ibrahim Pacha was unable to reach him and consequently ordered to fire rogue herbs at the entrance of the Grotto. Prince Korkomaz had asked his wife Nassab to leave him and secure the life of his two sons Fakhreddine and Younes. She fled, took shelter in Deir el Kamar at Cheikh Kiwan's, who helped her manage her husband's businesses and keep her children safe. Later on, Sit Nassab sneaked back to Balloune with the two little princes and all were kept in Ibrahim Ibn Chidiac Sarkis el Khazen's custody, also known as Abou-Sakr.
In the "Traditions Francaises au Liban", published in 1918 in Paris, Council of France Rene Ristelhueber wrote: "Not only did the Khazens hide carefully the young princes unaware of their social statute, but they contributed largely to their education. The Khazens were greatly responsible for raising and educating the young Fakhreddine.