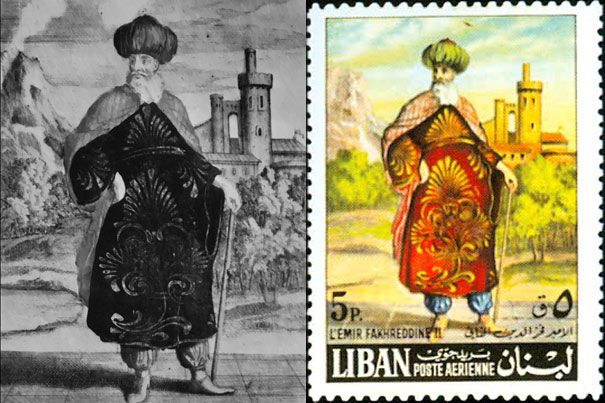 Cheikh Abou-Nawfal el Khazen
After the death of Abou-Nader in 1647, the position of Moudabber was taken by his son Abou-Nawfal who was also in charge of collecting the taxes for his district that included Chouf, Keserwan, Batroun, Akkar and Jebbet Becharre. In 1652, Abou-Nawfal welcomed the Jesuites to Lebanon (in Antoura) and Pope Alexander IV named him Roman Knight and allowed him to wear a knight's tunic with a cross. He was later on appointed consul of France by Louis XIV. In 1658, Emir Melhem died and his sons and heirs Ahmad and Korkomaz kept the post of Moudabber with Abou Nawfal.
Antoura & Cheikh Abou-Nawfal
The Antoura College was founded by the Jesuite Fathers in 1656, and was their first college in Lebanon after having established themselves in Aleppo since 1627 and Damascus since 1643. Their visit to Lebanon was an accidental one after two Jesuite Fathers were thrown by a huge storm on the shores of Jounieh. They were welcomed and greeted by Abou-Nawfal who provided them with a residence in Beirut and a property in Antoura where they could build their famous college. The Antoura College was taken over by the Lazarists in 1773.
Fayad Known as Abou-Kanso
In 1668, a plague ravaged Aleppo's provinces causing the death of over 140000 people in the city, as well as 75000 in Damascus, Tripoli and Mount Lebanon. In order to survive the plague, Abou Nawfal took the necessary precautions by dividing his properties over his eight sons, Nawfal, Fayad, Khazen, Torbey, Khater, Sleiman known as Abou-Ali, Kayss known as Abou-Ajam and Abou-Nasr. Abou Nawfal died in 1679 and was highly admired and respected by all. His elder son Fayad, known as Abou-Kanso, inherited the Consul of France title and began his reign by building a sumptuous convent in Ghosta and adding a church next to it, named after Mar Elias el-Hay in memory of his father.
As it happens in any family, there's always a bad element that causes disturbance and puts the family in trouble and Khazen, one of Abou Nawfal's sons, was constantly looking for trouble before he got assassinated by his brother Abou-Kanso assisted by his sons Sakhr and Hosn. The reason was that Khazen was going to kill one of the Harfouche Emirs and get the family involved in unnecessary clashes as well as tarnish its reputation.
Abou-Kanso
Fayad, known as Abou-Kanso, was a just man who would always put the interest of the family, Keserwan and its people and the emir above all. He was always keen on maintaining order and he proved so after killing and kicking out Abou-Moussa Zaarour and his gang. In details, a man known as Abou-Moussa Zaarour had united one day around him an army of thugs and was attacking farms and villages and committing heinous acts against local residents. However, as his gang was attacking Wata Jozz at some point, Abou-Kanso asked his son Fayad to lead an army and fight Abou-Moussa. As a result, Zaarour was killed and his men chased and kicked out of Keserwan which regained its peace and serenity.
Abou-Kanso died on the 17th of September 1691 leaving behind 6 children: Hosn, Sakhr, Khattar, Haykal, Daham and Dargham. Dargham became a patriarch later on under the name of Youssef.
After the death of Abou-Kanso, the Hamade tried to take advantage by stealing commodities stocked in the Jbeil Port, and raiding and killing in the areas of Akoura. This upset the Khazens up to a point that they reported the matter to Tripoli's Ali Pacha and Emir Ahmad. The latter agreed to help and asked the Khazens to help him with an army of 1000 men. As a result, the Hamades were kicked out of Keserwan, Jbeil and Tripoli. However they were brought back by the new Wali, Arslane Pacha, who took over the Tripoli province and pressured Prince Ahmad to include Keserwan in his province, which he did. Arslane Pacha then sent an army to Keserwan and was inflicted a severe defeat in Ftouh Keserwan and sent back to Nahr Ibrahim. He later on accused Prince Ahmad of his involvement in that battle, and allied with the Walis of Saida, Damascus and Ghaza against him. Consequently, the Sultan ordered that Ahmad Al-Manni and the Kayssite be replaced by Prince Moussa Alameddine the Yemenite.
The End of the Maans
Cheikh Hosn was the son of Fayad Abou-Kanso and had the same qualities as his father. He was named in 1693 as consul of France and Moudabber on behalf of Prince Ahmad Al-Maani. When Prince Ahmad was forced to leave his position, he bought his way out in gold and retreated to the Chouf for around 5 months until he was brought back by the new Sultan Mustapha to head Mount Lebanon's province. He brought back with him the Khazens.
It was during this period and exactly in 1702 that the idea of turning Keserwan into a shelter for the Christians of the region got the Khazen's full attention. It was at this point that Hosn sent a letter to Louis XIV asking for financial aid, a letter to which Louis XIV (Known as Roi-Soleil) answered by sending him a substantial financial amount of 1000 Gold coins.
PrinceAhmad died on the 13th of September 1697, thereby ending the Maan dynasty which had ruled Lebanon for 580 years and given a lot for the Lebanese and more specifically the Maronites through their counselors, the Khazens.