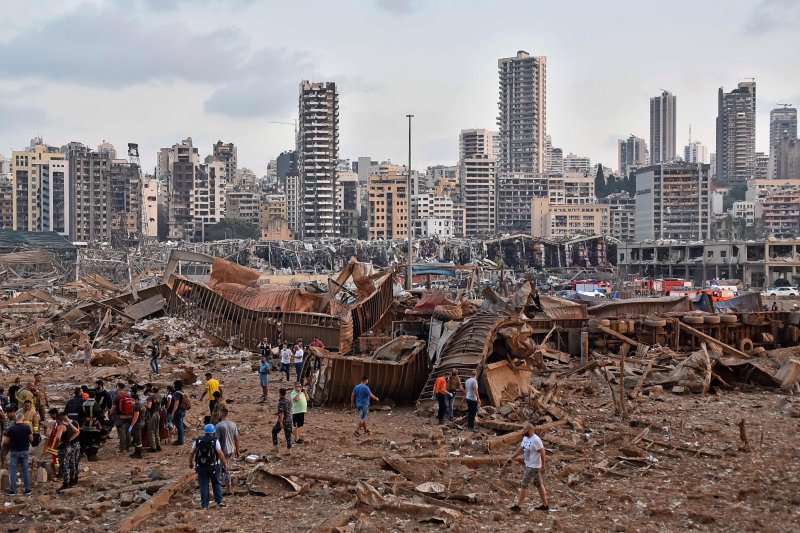 By Tamara Qiblawi, CNN -- Beirut, Lebanon (CNN)The coastal highway that connects Lebanon's northern-most tip to the country's south is peppered with gaping potholes. The stench of landfill hangs in the air as emaciated men rummage through dumpsters, their faces smudged with dirt. Towering above the wreckage wrought by nearly three years of economic collapse are endless rows of election billboards. Some show relatively unfamiliar candidates fielded by new political groups. But most display the looming faces of politicians from decades-old sectarian parties. Nearly all of the campaign slogans promise "change." The irony is not lost on anyone in a country where negligence by the political elite nearly destroyed the capital in the biggest non-nuclear explosion in history.
Lebanon's soul has been eviscerated by its financial crisis. Not even the children want to play On Sunday, Lebanese citizens will vote for a new parliament for the first time since an October 2019 uprising demanded the fall of a century-old political order. The path to political change has been rife with challenges, and whether this year's election will deliver a new political makeup is far from certain. But this is a moment of reckoning for Lebanon's political elite. The establishment they represent is a microcosm of the region's decades-old fault lines, pitting groups backed by the archrivals Iran and Saudi Arabia against each other. Change in Beirut's political order could mark a first step in extricating the country from its hodgepodge of proxy conflicts, and produce a ripple effect in a region where protest movements have so far failed to effect political change.
A lot has happened since Lebanon's protesters took to the streets in 2019, toppling three-time Prime Minister Saad Hariri's national unity government and leaving a political crisis in its wake. A financial tailspin pauperized nearly three quarters of the population, according to the United Nations. A banking crisis saw the life savings of many Lebanese vaporized. Meanwhile, the kleptocratic elite allegedly moved billions of dollars out of the country, prompting Western authorities to launch investigations into the country's once-celebrated central bank governor Riad Salameh. Then, the Lebanese woes culminated in a giant explosion in the heart of their capital in August 2020, after improperly stored chemicals ignited at Beirut's port, laying waste to many of the city's neighborhoods and killing more than 200 people.
Lebanon's elites have acknowledged their collective political bankruptcy while desperately trying to escape responsibility for their individual failures -- and their support base hasn't held them to account. Election rallies by the Iran-backed Hezbollah drew tens of thousands of people on Monday. Their rivals -- such as the right-wing Christian Lebanese Forces -- have also mobilized thousands of volunteers. Meanwhile, anti-establishment groups have seen infighting that prevented them from creating a unified electoral coalition, diminishing their chances of success at the polls.
Yet activists have been rigorous in their campaigns for change on social media and on the ground. Tens of thousands in Lebanon's large diaspora voted last weekend and the turnout was manifestly higher than the 2018 elections, with many saying they voted for non-establishment groups.
Images of voters in long lines snaking outside Lebanese embassies and consulates abroad flashed on national TV stations, heartening those who have lost hope, and raising the specter of a protest movement making inroads into mainstream politics. An overwhelming desire for change in Lebanon, and in the region at large, is undeniable. Whether that translates into a political shift is another question -- one which the election results could help clarify.