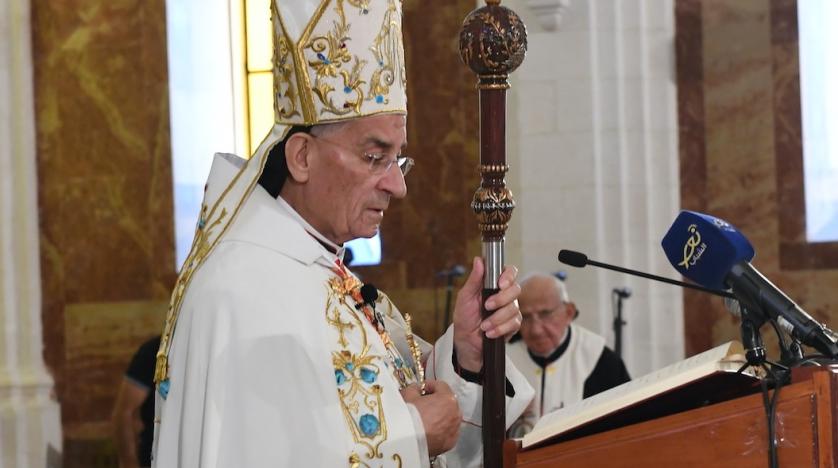 by presidency -- Today, President Abdel Fattah El-Sisi received Cardinal Mar Béchara Boutros Raï, Maronite Patriarch of Antioch and all the East. The meeting was attended by Lebanon's Ambassador in Cairo. The Spokesman for the Presidency said President El-Sisi welcomed Cardinal Mar Béchara Boutros Raï in his second homeland Egypt. The President confirmed that he deeply values the firm relations between Egypt and Lebanon at both the official and popular levels. President El-Sisi underscored Egypt's keenness on the safety, security and stability of Lebanon and on achieving Lebanon's national interest and sparing it from the dangers of conflicts in the region. He added that this comes within the context of Egypt's persistent interest in all that is in the interest of Lebanon and its people. The President also valued the Cardinal's constructive and fundamental role in support of Lebanon and of restoring its stability.
Cardinal Mar Béchara Boutros Raï said he was honored to meet with President El-Sisi. He stressed Lebanon's commitment to enhancing the historic and firm relations that bind the two countries, which are based on solidarity and fraternity. He expressed his country's appreciation for Egypt's efforts in support of Lebanon in all fields, and for its status as a cornerstone and fundamental guarantor for maintaining stability in Lebanon and in the entire Arab region.
by Sawt Beirut International -- Cardinal Mar Beshara Boutros Al Rahi, the Maronite Patriarch, stated that Egyptian President Abdel Fattah Al-Sisi "loves Lebanon and the Lebanese people, and I thanked him for the air bridge that he established after the port explosion, which expresses his love and for opening the doors of Egypt to the Lebanese and for his always supportive positions for Lebanon and for the mediation that he undertakes with the Gulf countries." "We discussed Lebanon's internal issues, and the Egyptian President expressed his regret for the situation that Lebanon has reached. I conveyed to him the harsh situation that the Lebanese are experiencing, and that we need to treat its disease, which is the failure to implement the Taif Agreement, and the solution is to declare neutrality," Al Rahi said in a television interview during his visit to Egypt.
Regarding the upcoming parliamentary elections, Al Sisi affirmed, "They must occur, and we care about it, in order to preserve constitutional entitlements, and voters must participate massively and make better choices, with confidence." The Maronite Patriarch has as well encouraged the Lebanese population to participate heavily in the elections, and to voice their concerns to the fullest extent possible. He continued, saying: "We have built a friendly relationship with the Secretary-General of the League of Arab States, who has not failed to follow up on the issue of Lebanon, which is committed and a founding member of the League. The League cannot abandon Lebanon, but it must work harder and harder for its sake." "We discussed the issue of Hezbollah's weapons, which came out of the hands of the Lebanese, even if there was a defensive strategy to solve part of the problem," he concluded. Source: Sawt Beirut International