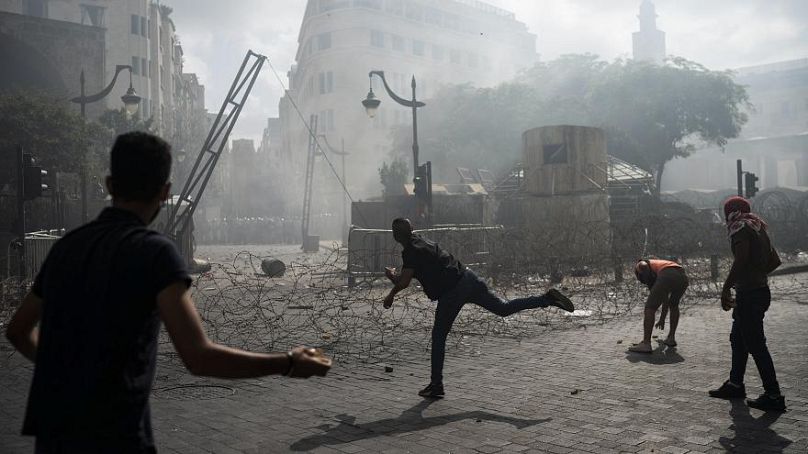 FORT BREGANCON, France (Reuters) - An emergency donor conference on Sunday for blast-stricken Lebanon raised pledges worth nearly 253 million euros ($298 million) for immediate humanitarian relief, the French presidency said. Those commitments would not be conditional on political or institutional reform, President Emmanuel Macron's office said. There were also pledges made for longer-term support that would depend on changes brought in by the authorities, the Elysee Palace said. World powers promised not to fail the Lebanese people as the capital, Beirut, recovers from the massive explosion that killed 158 people and destroyed swathes of the city last Tuesday. Lebanon was already mired in political and financial crisis before the blast. But foreign countries demanded transparency over how the aid is used, wary of writing blank cheques to a government viewed by its own people as deeply corrupt. Some are concerned about the influence of Iran through the Shi'ite group Hezbollah. The "assistance should be timely, sufficient and consistent with the needs of the Lebanese people ... and directly delivered to the Lebanese population, with utmost efficiency and transparency," the final communique stated. Macron, who visited Beirut on Thursday, hosted the conference by video-link and in his opening remarks urged participating nations to put aside their differences and support the Lebanese people.
President Donald Trump told the conference the United States was ready to continue providing aid to help the Lebanese, the White House said. "The President called for calm in Lebanon and acknowledged the legitimate calls of peaceful protesters for transparency, reform and accountability," a White House statement said. Trump later said the United States would send additional planes loaded with medical supplies, food and water and would give substantial aid to Lebanon, though he declined to give a dollar figure. "We haven't given a number, but it will be substantial. On a humanitarian basis, we have to do it," Trump told reporters in Morristown, New Jersey.
by euronews.com -- Lebanon's environment minister Kattar Demianos and information minister Manal Abdel Samad both resigned on Sunday amid protests following the explosion that killed over 150 people in capital Beirut on Tuesday. Demianos said he was leaving in solidarity with the victims while Manal Abdel Samad said in a brief televised address that she apologised that leaders were "unable to meet their expectations." The resignations come as anti-government protesters stormed Lebanese government buildings on Saturday evening, including the foreign ministry. Protests continued on Sunday with clashes between police and protesters. Police fired tear gas and clashed with the thousands of protesters who gathered in the centre of the Lebanese capital on Saturday.
by naharnet -- Industry Minister Imad Hoballah of Hizbullah meanwhile said: "Our responsibility is to fight corruption from inside… and we won't evade our responsibility." Annahar newspaper reported Sunday that the government "may resign today or more likely tomorrow during Cabinet's session." It also said that "a political decision has been taken to topple the government in parliament" during a session that will be held on Thursday. Seven MPs -- Sami Gemayel, Nadim Gemayel, Elias Hankash, Paula Yacoubian, Marwan Hamadeh, Neemat Frem and Michel Mouawad -- have meanwhile announced their resignation from parliamen