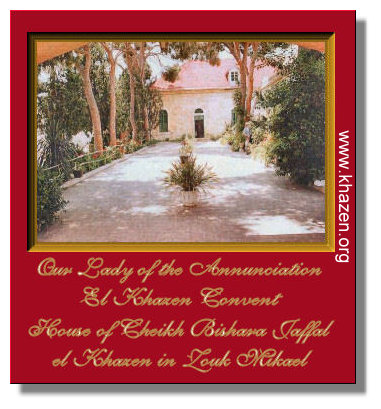 Cheikh Bechara Jaffal el Khazen of Zouk Mikael is the son of Jaffal, son of Moussa son of Tarabieh, son of Abi Nawfal Nader, son of Abi Nader Khazen, son of Abi Saker Ibrahim who's the son of Chidiac Sarkis el Khazen.
Born in 1756, he held the position of Governor of the Keserwan region between 1808 and 1822. At the beginning of his term, he had excellent relations with Emir Bachir Chehab II (Prince of Mount Lebanon) who used to visit regularly at his residence in Zouk Mikhael, escorted by his entourage which consisted of 500 persons with their horses. Prince Chehab II usually to stay as a guest at Bechara's residence and enjoy a warm and splendid hospitality.
However, these relations worsened when Emir Bachir's brother, Emir Hasan tried to annul Cheikh Bechara's privileges on the Keserwan region. Emir Hasan's attempt was foiled after it faced a fierce opposition from Cheikh Bechara and the whole Khazen family, with the help of Jeries (George) Baz.
Emir Hasan didn't stop here but made things worse by putting a silk scale in Jounieh and violating Cheikh Bechara's rights consequently. Cheikh Bis Bechara hara retaliated after receiving advice from his close friend Cheikh Bashir Jumblatt, went to Jounieh with his men and destroyed the scale.
This act upset the Emir who overthrew him as Keserwan's governor and appointed Cheikh Fadel el Khazen and his nephew Emir Abdullah instead. This left Cheikh Bechara in control of Zouk Mikhael and Aintoura. His wife and sister assumed control of the two cities after Cheikh Bechara's death in 1825.
Cheikh Bechara led an extravagant and prestigious life. He was highly respected and appreciated by his community and was a very generous and kind man. His wealth was so immense that he owned nearly all of Zouk Mikhael. HE also owned two thirds of the lands in Kfardebian and had properties in Aintoura and most of the Keserwan villages.
A year after his death, Emir Bachir Chehab II seized the opportunity and claimed ownership of all of Cheikh Bechara's properties including his house and furniture, basing himself on a false claim that the Cheikh had no close relatives as direct heirs. As a response to that outrageous act, the Khazens denied this claim by proving that Cheikh Bechara had such close relatives having the right to inherit him.
Cheikh Bechara's inheritance caused major problems between Emir Chehab II and the Khazens and this dispute was finally resolved after an intervention from Priest Youssef Raji el Khazen ( Who later became a Patriarch between 1845 and 1854). The deal made forced the Khazens to pay the Emir 170,000 gold coins in exchange for keeping the properties.
Upon agreement, Cheikh Bechara's wife, Ziara and his sister Badwanie asked Archbishop Antoine El Khazen to sell Bechara's properties and pay the amount needed to the Emir